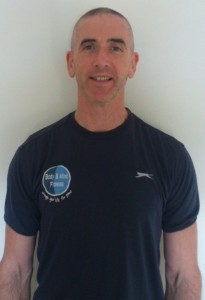 I first began using gym-based strength and conditioning programmes in 1988 as a means of improving my own body shape and fitness as well as improving performance in my chosen sports of Cycling and Martial Arts.
Apart from the physical improvements, I also really enjoyed the sense of achievement and the calming psychological effect that I got from a good work-out. I soon began to consider the possibility of having a career in the Health & Fitness industry, but didn't actually take the plunge until my full-time job (my "comfort zone") closed in 2001.
Later that year I enrolled in a Fitness Instructor Training Course, and after completing my work experience, began working full-time in one of the biggest gyms in Dublin in July 2002. I moved to Ennis in 2005 and worked as a Freelance Personal Trainer in Ennis and Limerick for a number of years before deciding to set up my own Business – Body & Mind Fitness – in late 2008. It wasn't the ideal time to open a business due to the dramatic downturn in the economy, but thankfully with the support and loyalty of my clients, the business has grown from strength to strength.
I believe that this success is due to the importance that I place on educating and motivating our clients to achieve their health and fitness goals. In order to be able to do this I have invested a lot of time and money into my own education over the years and I regularly attend Industry conferences and seminars as well as studying certification programmes.
The following are some of my qualifications:
Poliquin International Certification Program Level 1 Coach
Precision Nutrition Level 1 Coach
Practitioner Certificate in Functional Nutrition – Institute of Health Sciences
Neuromuscular Therapist and Sports Massage Therapist – National Training Centre
IRFU Certified Conditioning Coach
Cycling Ireland Level 1 Cycling Coach